Vietnam has 4,469 out of its 6,210 "One Commune One Product" (OCOP) products rated between three to five stars in the 2018-2020 period, 1.86 times higher than the target set for the period, heard the national conference reviewing the implementation of the OCOP programme in the 2018-2020 period, held in Hanoi on March 23.
The conference was jointly organised by the Central Steering Committee for the National Target Programme on Building New-style Rural Areas and the Hanoi People's Committee and was chaired by Deputy Prime Minister Trinh Dinh Dung.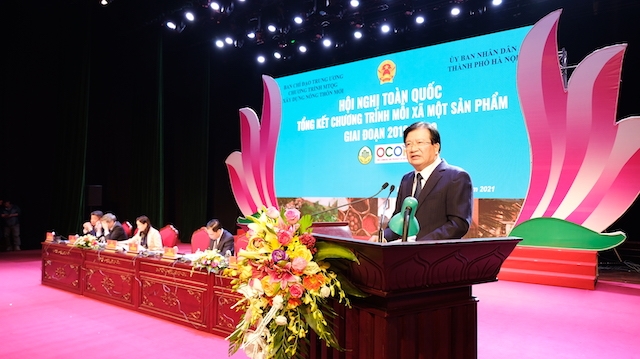 Deputy Prime Minister Trinh Dinh Dung speaking at the conference. (Photo: kinhtedothi.vn)
According to Deputy Minister of Agriculture and Rural Development Tran Thanh Nam, the country has mobilised over VND22.8 trillion to implement the OCOP programme over the past three years. As many as 59 provinces and cities have participated in evaluating and rating OCOP products with 72% of OCOP products meeting three to five-star standards.
The Ministry of Agriculture and Rural Development has held a number of international, national and local OCOP fairs to promote OCOP products and has built 24 OCOP consulting organisations.
The OCOP progamme aims to have at least 10,000 OCOP products recognised at three stars or higher, including 3% of OCOP products meeting a five-star standard. About 50% of rural craft villages are expected to have OCOP products.
Deputy PM Trinh Dinh Dung said the OCOP programme is an important task in promoting rural economic development associated with building new-style rural areas.
He noted that OCOP products have initially aroused the potential and strengths of local products, raw material areas and labour forces. The OCOP programme has also contributed to transforming production towards increasing the overall production scale and incomes for rural people, especially those in remote and ethnic minority areas.
The government official also pointed out several shortcomings in implementing the programme including the untapped advantages of localities, a lack of attention to quality of OCOP products, fragmented trade promotion activities as well as a lack of funding for the programme.
He emphasised that the OCOP programme must be developed based on supply and demand and associated with the conditions, potential and advantages of each region and locality.
In the meantime, the government will build and implement mechanisms and policies to support the building of OCOP products in the areas of funding, land, tax, technology and others, Deputy PM Dung said.