The repositioning of enterprises to seize development opportunities in the coming years, to help improve competitiveness, is a key issue at present.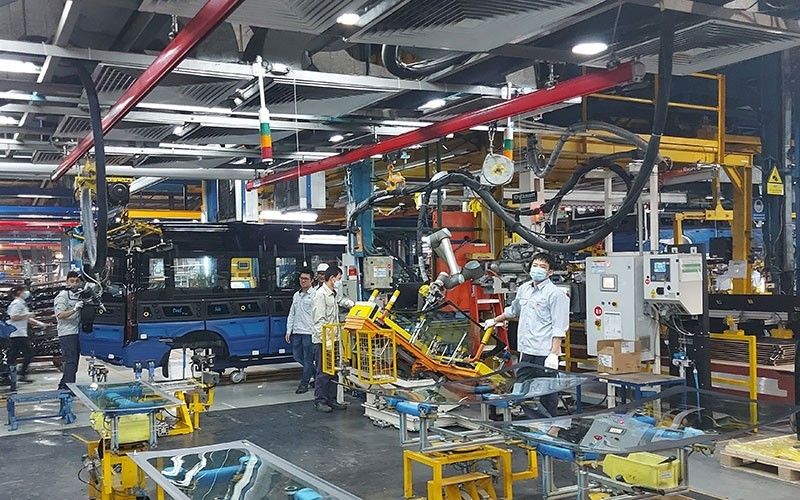 Automobile production and assembly line of Ford Vietnam Co., Ltd. (Photo: Thanh Quan)
Actively assessing the market
In 2023, in the face of complicated developments, many fluctuations and difficulties in the international and regional markets, the Vietnamese economy began to show worrying signs. The growth momentum is showing clear signs of decline, in the first two months of 2023, when only 37,900 enterprises were newly established or returned to the market and 51,400 enterprises withdrew from the market.
In addition, the world has undergone remarkable changes in the past period, especially since the appearance of the COVID-19 pandemic, which has caused disruptions, bottlenecks and stagnation in global production and supply chains. The new context has created great challenges for governments and businesses, requiring Vietnamese businesses to be ready to respond.
Although Vietnam's economy has "grey colours", according to many economic experts, development opportunities will appear. Nguyen Hong Long, deputy head of the Steering Committee for Enterprise Innovation and Development, said that it is time to reposition enterprises for sustainable development.
This is a topical and urgent issue in the current time when the global economy has seen many fluctuations affecting the Vietnamese economy and business activities of enterprises. To reposition businesses to grow quickly and sustainably, it is necessary to do well in forecasting the world economic situation and assessing the domestic economy and the actual health of businesses. Investment in innovation, information technology applications, digital transformation, green economy and integration, are among the main drivers.
This is not a problem of the State or enterprises alone, but there must be active cooperation between stakeholders. However, because most Vietnamese enterprises are small and medium-sized, state-owned enterprises, especially 19 groups and corporations with great experience and financial capacity, must stand up to play the leading and supporting role in performing the tasks that other economic sectors do not do.
There are still many challenges in the implementation
It can be said that this is the right time for businesses to review their strategic priorities, identify differences in the value chain and train employees to work in new operating methods. Enhancing competitive advantages helps businesses promptly grasp and adapt to new trends, take advantage of new growth drivers, attract new investment resources, create breakthroughs, and create a foundation to "speed up", in the future.
This requirement has become even more urgent when the economy is in a new stage of development, in the post-COVID-19 period, there have been major changes in both market dynamics and business methods. Some factors that were previously considered to add value to businesses, such as digital and automation, are playing a strategic role or sustainable development is no longer a trend or a choice, but has become a growth driver. The fact of recent economic crisis and recession has proved that businesses that follow the direction of sustainable development can withstand and recover faster and more sustainably.
Director of the Central Institute for Economic Management (CIEM), Dr. Tran Thi Hong Minh shared that, despite being one of the most open economies in the world, Vietnam's level of participation in global and regional value chains is still limited. Not only that, Vietnam currently focuses too much on several markets, products and businesses. Which, the group of textiles, electronics, chemicals and metals, accounted for two third of the trade revenue, and the four largest markets including China, Japan, the Republic of Korea and the US, account for 60% of the markets.
Therefore, in the coming time, to remove difficulties for businesses, it is necessary to improve the quality of consultancy and awareness of enterprises, to transform and adapt to the new situation and expand markets. At the same time, it is necessary to successfully perform the commitments in international integration, quality standards or content in the signed FTAs. The Government needs to continue to remove difficulties in terms of capital, and support programmes need to be implemented soon, to be effective. In particular, the focus is on promoting labour productivity growth, associated with digital transformation, regional linkage initiatives, and creating motivation to transform the informal economy into formal activities.
The government also needs to have specific guidelines and directions to help businesses, especially small and medium-sized enterprises, realize the importance of repositioning their business through creative innovation, to promptly grasp new opportunities as well as update the adjustment in regulations and global changes.